I'm so happy it's FRIDAY! I'm linking up with
Ashley
for another edition of Friday's letters!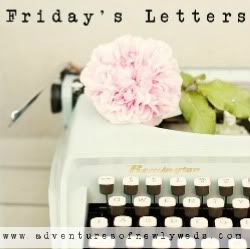 Dear Husband of mine,
Thank you for making
my Valentine's day
so special. I'm one lucky gal to be married to you! Can you believe you have been my Valentine for 10 years now?
Dear Presidents,
Thank you for being so great...great enough to give me a day off of school Monday!
Dear Stephinella,
We have a date tonight to see the Vow...how romantic. We tried to get the boys to go, but they opted out this time. Their loss! Let's hope we don't cry as hard in this movie as we did with our last one.
I am so cute when I'm puffy eyed and crying...haha
Dear 2000 Ford Taurus,
Don't fail us now...we are car shopping this weekend! Please stop having the shakes when I drive you. Why don't you ever do that "trick" for Drew????
Dear North Carolina,
I will be visiting you in exactly one month for Ali's wedding. Please be warm so I can go to the beach!
Dear Bloggy Friends,
Thank you for your creativity...after scanning all your Valentine posts I already have my vday meals and crafts planned for the next 5 years. Haha. You all are the best.ever.
Dear Drew (again),
Thanks for making dinner for me last night after my hard day at school. You (and Chicken Pot Pie) always know how to make me feel better. (click
here
for the recipe)
Happy Friday!!!