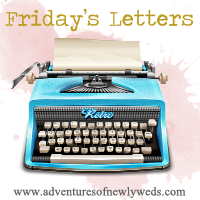 Dear Gray Hairs,
Adios suckers! I am loving my new hair color without you. Please stay away so I don't have to shell out so much cash to get rid of you again!
Dear Birthday,
You are less than a week away! I hope I always look forward to you no matter how old I get. Birthdays are just too fun not to love!
Dear Tom's,
I don't own a pair of you yet and I'm hoping that will change next week. *Hint Hint hubby.
Dear Summer Vacation,
I am absolutely 100% in love with you. Please sloooowwww down!
Dear Hot Stone Massage,
Hands down out of my 3 massages I've ever received in my life you are my favorite.
#massageconnoisseur If I was rich I would get you once a week.
Dear Etsy Shop,
I am sorry I have neglected you lately, but somehow you are still making sales! New items will be in the shop soon that I'm really excited about!!
Dear Sweet Husband,
I love our weekly Chipotle dates and I love that you are teaching a survival camp to 5th and 6th graders. I know that I will always be safe with you! P.S. You could be a model. How did I end up with you...oh yeah I remember I took you off the market when you were a young age of 17. Haha.
Happy Friday Friends!!!