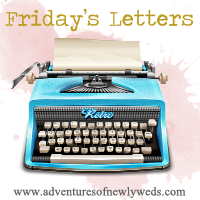 Dear Sweet Husband,
I'm so glad we had a fun evening celebrating our 3rd anniversary. Can't wait to see what adventures year #4 bring.
Dear Bella Luna,
I'm glad we decided to re-visit you. Half price wine, my favorite person and your blueberry, chocolate chip bread pudding made for a wonderful evening.
Dear Zipline,
We are visiting you today and my stomach is in knots with anticipation. I can't wait to zipline across the river! I hope I don't chicken out. Ah!
Dear Julie,
We get to meet TODAY! I can't wait to give you a hug and take lots and lots of pictures.
Dear Reds,
Please give us a win tonight!!
Dear Knock You Naked Brownies,
I can't wait to make you and then eat you at our Bachelorette finale party on Sunday!
Dear Husband (again),
Are you ready for today? Can't wait to cross another thing off our
Cincinnati Bucket list together!
Love, Allison