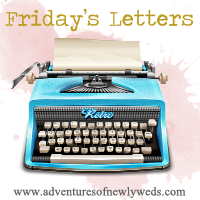 Dear Baby Kitties,
I know you control me and all, but could you please let your momma sleep in past 7am? Don't you know it is summertime?!
Dear Sweet Husband of Mine,
I'm so glad you are enjoying your new mountain bike. I can't wait to bike the Loveland bike trail with you and stop for some shaved ice!
Dear Pool,
Remember me? When I envisioned summer I envisioned hours and hours by the pool reading. That has not happened, but I did make my appearance yesterday and I will be back...tomorrow!
Dear S.J. Watson,
Thanks a lot for the book hangover. Your book
Before I Go To Sleep
was amazing. So amazing I read it in 2 days and am now left wanting more!
Dear Vanilla Macaroons,
You were so fun to make, but you are old news now after meeting and making the Blueberry Cheesecake macaroon! I think you deserve your own blog post for being so awesome. How does tomorrow sound?
Dear Blog Friends,
Aren't you so glad it's Friday?? I hope you all enjoy your weekend!
Dear Husband (again),
Next week we get to celebrate our 3 year anniversary! I am more and more in love with you every.single.day.
Love, Allison