Dear Baby Kitties,
I can't believe you up and took over
Sarah's
Floyd's blog
today. I hope you said really nice things about me and didn't let all your sass shine through. You didn't tell them that we call you really silly pet names, or that we let you drink out of the sink or wave goodbye to you when we leave the house did you?! I love you either way though, really I do.
Dear Weekend,
Some cat naps are definitely in store for me this weekend, I'm exhausted!
Dear Budget,
You haven't been
that
bad...yet. I'm actually learning a lot. Please be nice to me.
Dear Erin,
I LOVED getting to meet you in real life. We are officially friends and I'm so glad!! No more "my blog friend Erin said..." Oh and you get your own post coming soon so don't be jealous that my cats stole the show today.
Dear Season 3 of Downton Abbey,
I already love you. Thanks for making me excited about Sunday nights!
Dear Super Sweet Husband,
Thanks for finishing dinner last night so I could get all my grading done. You are better than Nutella...and that's saying a lot from me.
Dear Beer Bread,
I've been dreaming of you since our last meeting. I will be making you and then eating you all in the same day. Watch out!
Dear Blog Friends,
You all truly are the best. Happy Friday!!!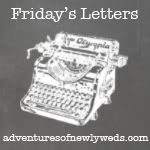 Make sure to stop by
Total Basset Case
to meet Sarah's dog Floyd and my little furbabies! Floyd enjoys a good cat nap too!